Current Rating - 722
Went out for field work Wednesday to a football field. Light breeze and 75 degree dew point. When finished I was soaked head to toe.
HOWEVER - I had my longest drive yet at 225 feet against the breeze with my 1743g Patriot. I learned that I need LESS arm movement and more snap. In the case of side arm it seems less is more when it comes to arm speed.
I also need to bend over more as what I THOUGHT was level was actually a little anhyzer* (outside rim tipped up) and when I throw a anhyzer I also tend to roll my wrist which compounds the problem.
*An anhyzer shot is when you manipulate a golf disc to fly in the same direction as its rotational spin. If you are a lefty, the golf disc will spin left and if you are right handed, it will fade right. A right handed sidearm is like throwing left-handed.
I took my new found confidence to Heistand Park in Madison which is a wooded pin ball style course on some holes and got in trouble with inconsistency. Lesson here is just like ball golf, course management is a must. Playing conservative will take strokes off your game at times.
Still no luck in talking friends in to the sport and it seriously an awesome a sport. Out in real nature, not manicured nature.
One thing I really love about this sport is that all courses are so different - almost mini golf style. Ball golf has different style courses but disc golf seems to be so creative at times.
Today I saw that there are some courses with some ingenious basket set up's
Hornets Nest #9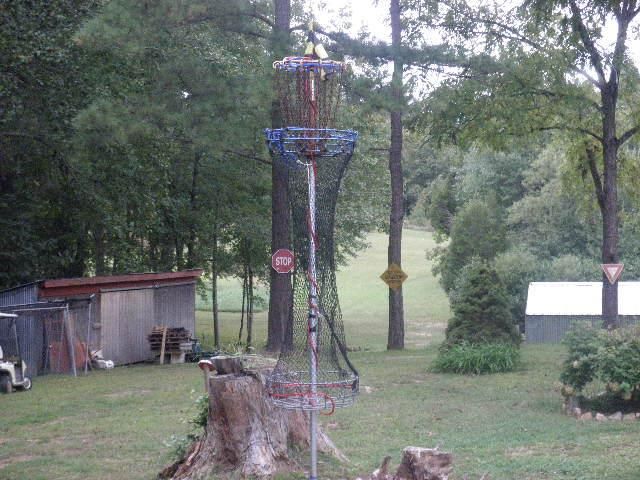 Hole 10 at the Tiki course
Hole one Buffalo Trace
Have a great day.